Chosen for the SF-AiD program of EURASF in March 2019
Atomic Dialogues (CONVERSAZIONI ATOMICHE) by Felice FARINA
Length: 84'
Country: Italy
Year: 2018
Language(s): Italian
Production: Enrico Bufalini – Istituto Luce -Cinecittà
Sales Contact: Felice Farina
Ninafilm srl
This email address is being protected from spambots. You need JavaScript enabled to view it.
Synopsis
Atomic Dialogues is a delicate and earnest love declaration to Italian science, the author has chosen to state in the shape of a "scientific comedy": it is a road movie and a quest for knowledge in the land of contemporary physics, where director himself uses his own camera-man, the young, underpaid and reluctant Nicola, as a guinea pig to demonstrate that even hard topics like quantum mechanics and general relativity can be explained to whoever is convinced to be incapable of understanding them or, even worse, doesn't even care for such things. So, while Atomic Dialogues is a frugally crafted docu-comedy with a clear educational purpose and an unprecedented selection of rare archive footage; it is also a passionate invitation to everyone who craves to take a peek inside the daily life of those people who have chosen to dedicate their entire lives to ask questions in the name of knowledge.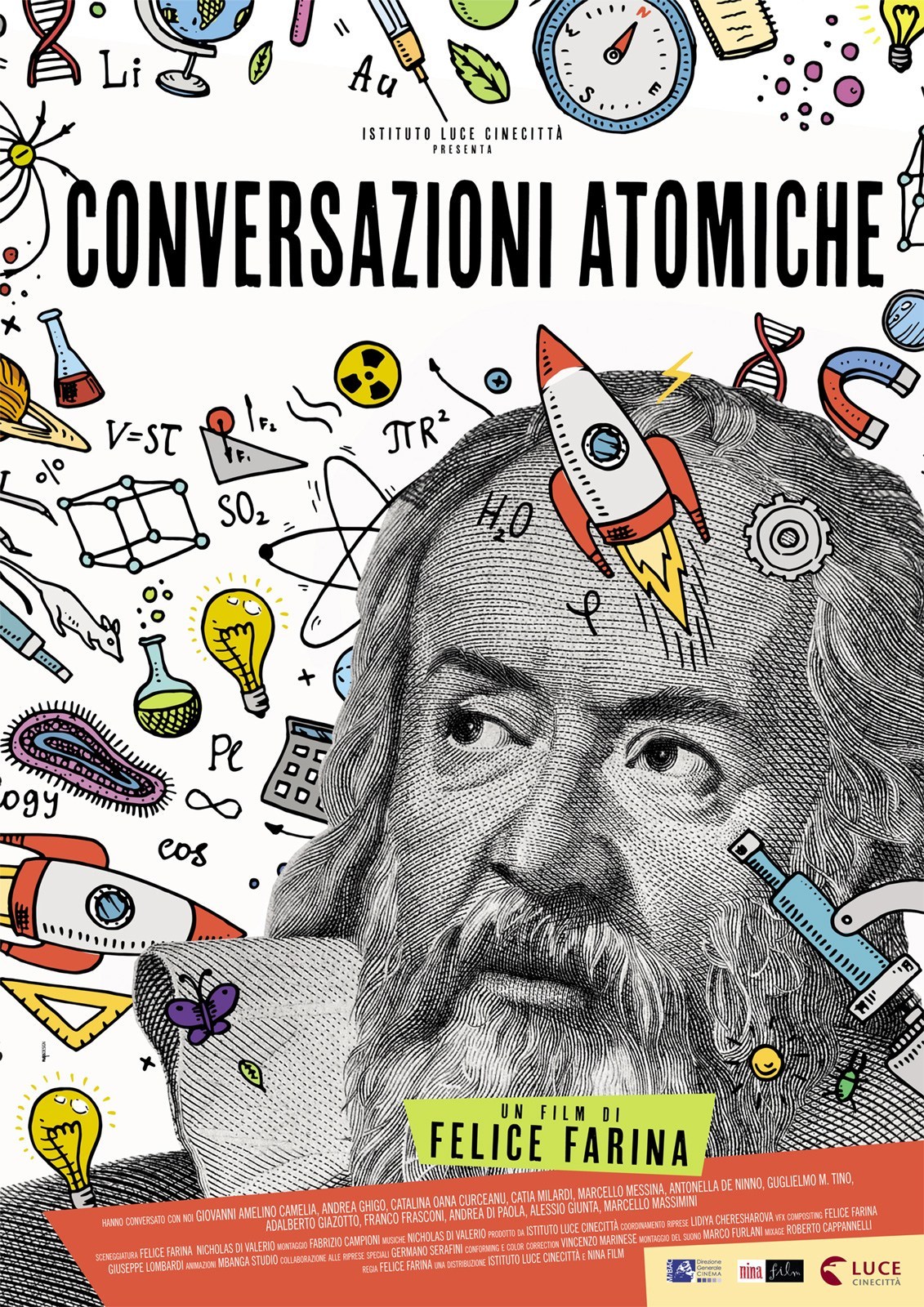 Director's Statement
I am hopelessy science-sick, but I am frequently disappointed by docs in which scientists stand in the cold setting of the interview, often speaking a non-natural and forcibly simplified language. So thought about doing a little experiment, testing a slightly different way to contributing to the public understanding of science, mixing a road-comedy scenario with passionate conversation with researchers in the field - the Physics - that more than anything is close to the depth of Nature.
Director Felice Farina
Felice Farina is a Rome-based artist. He grew through the ferment of Roman avant-garde theatre, both as an actor and backstage, developing – at the same time – a strong interest in animation and special/optical effects for film making.
Since 1980 he thus experimented filmmaking riding the transition from traditional to digital imaging, producing several works mixing analogical and numerical techniques in film and multivision. In the same years he started applying elements of technical and industrial design to the field of arts, focusing on the relation between art and science and collaborating on several projects of kinetic and scientific art.
As film director he directed several documentaries and three short movies before making his first feature film Sembra morto ma... è solo svenuto in 1986, written with Gianni Di Gregorio and Sergio Castellitto, who is also the protagonist. He spent many years directing motion pictures, developing a great interest both in film drama research and in the new expressive challenges coming from compositing images and sound in the new multi-layer virtual environments. His film Bidoni (1995) was the first Italian movie edited in Avid environment.
His last work Patria (2014) was inspired by Enrico Deaglio's bestseller Patria 1978–2008 (2009) and was selected in Venice Film Festival Authors Days.