Towards Europe: 2nd EURASF Member Meeting at Sunny Side of the Doc
24 international members of the European Academy of Science Film met in La Rochelle, France, to discuss next common steps
by Thilo Körkel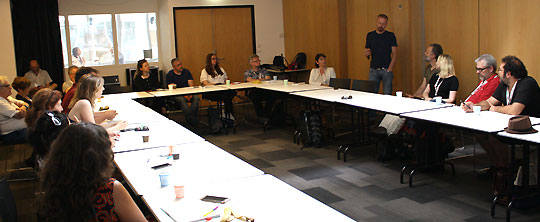 25th of June 2019. Outside: Forty degrees Celsius. The beaches of La Rochelle on the Bay of Biscay were glowing in the sun. Inside: 24 members of the European Academy Science Film discussing present and future of the association. At the venue of Sunny Side of the Doc, EURASF chairman Wolfgang Haberl provided an overview over the activities of the association during the last twelve months.
Among the most important ones: The EURASF jury voted for »The Dusk Chorus« to be the »Best European Film 2018/2019«. The decision was announced in November 2018 during the award ceremony at the InScience film festival in the Netherlands.
The next big thing of EURASF: the »European Talent Hub» at Sunny Side of the Doc, which had taken place a couple of hours before the member meeting and which had been co-developed by EURASF board member Christine Reisen.
EURASF's SF-AiD program also continues successfully. For the second time already, there has been chosen, in March 2019, a new film to be supported by the academy: »Atomic Dialogues« (Conversazione Atomiche), by Felice Farina. Find the comment of the jury here.
After giving some numbers – current members: 73, Haberl gave EURASF members the opportunity to present their latest initiatives. Among them: Ricardo Dominguez from Spain. He presented ROS Film Festival, the »first Science Fiction Short Film festival with Robots«. Its next edition, which will be a mixture between live event and online festival, is scheduled for June 2020 and will take place in Barcelona.
Then, Christoph Krachten and Thilo Körkel from Germany presented »SN 1054», the first YouTube network centered around scientific topics. Krachten's Clixoom channel alone has more than half a million subscribers. The network is already growing quickly within Germany and will officially go live by the end of 2019. The next step of the »SN 1054« team will be to invite science channels from other European countries to the network and to jointly (and quickly) grow.
Last but not least, EURASF member Karol Jalochowski – a polish journalist, filmmaker and physicist – presented »Docs + Science«, a special section of the big Krakow film festival. As a motto of this year's event, which took place in May and June 2019, Jałochowski had chosen »Take off« – taken literally as an appreciation of the first landing on the moon 50 years ago, and taken metaphorically as a »take off« into the future of science.
After a lively discussion, Wolfgang Haberl stated what he considered to be the most important task for EURASF in the months to come: »»to position the Academy as a valuable partner for the European Union and to strengthen the European Science Film in its importance«.